American Tourister Backpack Review

As a mother of two children, wife of a 'must be fed at regular intervals' husband and an owner of a big, daft, Hungarian Vizsla,  it's rare for me to be seen leaving the house without a rucksack on. When American Tourister asked me to review their Urban Groove backpack, I jumped at the chance. If I'm getting organised for a trip out, I always opt for a backpack. I hate how much pain an over the shoulder bag can give you if you've overloaded it. Let's be honest, it's impossible not to overload your bag when you have to pack for the whole family and every eventuality (and weather) the day might throw at you.
The Urban Groove backpack arrived with a fun sheet of stickers which the kids are desperate to stick around the place! They made me smile as soon as I opened the American Tourister carrier bag. With quotes such as "start your adventure" and "wherever the road takes you" I got an instant feel for the type of company they are. As corny as it sounds, the fun stickers made me want to instantly pack the bag and head off to "smile more and worry less", another one of my favourites! Of course I'll let the kids decorate something with the stickers.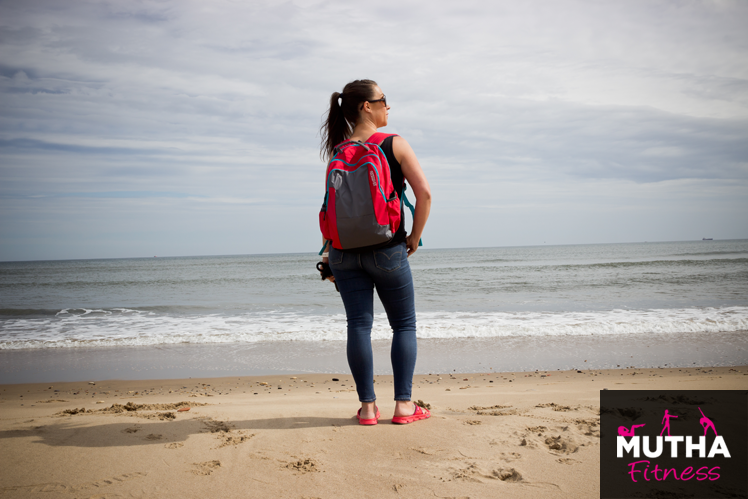 The backpack itself is 29 litre capacity, which is an ideal size for me for a day pack. The bag is separated into 3 main sections. The large or main compartment of the bag has no inner pockets and is essentially where you pack all of your bulky items for the day. When I used the bag yesterday I packed my purse, snacks for everyone and hoodies for the kids. There was still more than enough room left for when they both handed me their sandals to carry on the beach too. The well padded shoulder straps were really comfortable and as they are quite wide, the weight felt nicely distributed. At the bottom of each padded strap was an adjustment strap and buckle. It really couldn't have been more simple to adjust, a quick pull downwards on both sides and the straps shortened and I was able to find the right position on my back. The easy adjustment is handy, especially if there's more than one user which in my case is often what happens and it just depends on how much we have our hands full as to whether I carry the bag or the hubby does.
The middle compartment is very thin and would be ideally suited if you were carrying a laptop or tablet with you. I didn't really have a use for this pocket yesterday but I know it will come in handy for something at some point! The front compartment has 4 additional pockets inside which lend themselves to be used for any small loose items you may be carrying with you such as your phone, keys and cosmetics. I found it really useful to pack a few small snacks in the front compartment as they were really easy to access without having to rummage through the main section where everything else was.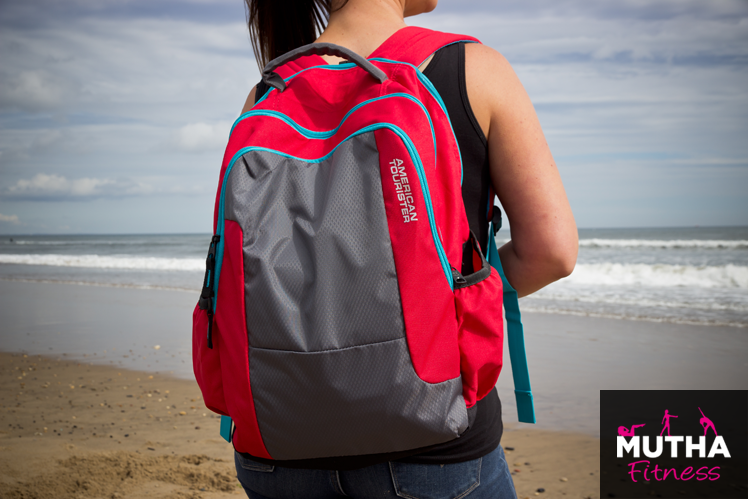 The final areas of storage in the bag are the side pockets which were absolutely great for carrying our water bottles for the day. What I've found with so many other backpacks is that side pockets are not deep enough to reliably carry even the kids' small water bottles never mind our larger ones. I'm forever leaning over and hearing the clunk of my water bottle drop out my bag and roll across the path. The side pockets on the Urban Groove are really deep and have an elasticated top which kept our water bottles in one place for the whole day. This was a huge thumbs up from me.
The backpack I chose was red trimmed with grey and turquoise. It's a great, vibrant looking bag and I was so pleased with my colour choice. Overall the Urban Groove worked really well for my needs as a day bag and I will continue to use it on our regular trips out as a family. There are lots of other colours and styles available in the American Tourister backpack range, so why not have yourself a little look!

*Disclaimer: This was a collaborative post with American Tournister and I was given the backpack in order to give an honest review. All words and opinions are my own.