More Than Just A Number

When I started my weight loss programme I bought myself some new electronic scales so that I could accurately see the weight that I was losing because when you're on a path of weekly weigh ins, every quarter of a pound counts! Much to my husband's amusement because let's face it, quarter of a pound is neither here nor there but it seriously does matter when you are trying to lose weight as a loss is a loss, right?
The scales have done the job for the past three years and I've been perfectly happy with them so when I was offered the chance to review the iHealth Core scales I was unsure how different they would be to my current ones. A little research into the product and I was really excited to get my hands on a set!
Excited and scared at the same time because these scales don't just tell you what your weight is to within a quarter of a pound, they can also tell you your body fat percentage. Wow, this sounded like impressive stuff even though I was fairly apprehensive to actually find out my percentage. The scales arrived in a very sturdy box so no fear or your product arriving damaged. Aesthetically the product is great. They are white and silver with rounded edges and although slightly larger than standard scales they don't appear bulky. The clean fresh look of the product means they would coordinate with any bathroom design. I was in love with the product before I'd even switched them on because they came with a sticker placed over the display screen that said…
"You are more than just a number, you are Beautiful!"
Love the message.
The set up of the iHealth Core scales was really simple. I had to download the free iHealth app and create a log in. It's important when you set up your user details that you know your approximate weight as this is how the scales will identify you the first time you step on. Within the app you add your device and it's at this point that your scales will become connected to your home wifi and enable them to feed the information into your phone app. The registration was done by scanning a QR code on the bottom of the product and literally took seconds to do. Up to ten users can be registered which means every family member can use the product. It's pretty clever stuff!
Here's a video I found online which explains the setup step by step…
There are 4 silver circular conductors on the scales and when you step onto them you need to make sure this is where your feet are placed. The information that is then displayed is your weight followed a few seconds later by your body fat percentage. The little wifi symbol is also there so you can be assured you're connected and your app will be fed the information. The clever part is if your internet connection is lost for whatever reason the iHealth Core can store up to 200 sets of data and will just upload it into the app when connection is restored.
My first thoughts when I saw my weight flash up was disappointment and not because I was heavier than expected but because it was only round numbers displayed. No mention of quarter pounds. My disappointment was short lived when I opened my iHealth app and saw just how accurate the weight measurements are. They measure a tenth of a pound! The hubby will be delighted, ha!
I think the name given to the brand of these scales is a good one. They are not just scales, they are health scales. As well as weight and body fat percentage which are shown on the product screen, the app goes into so much more detail. I now know my accurate BMI, body water percentage, lean mass, muscle mass, daily calorie intake, bone mass and VFR (visceral fat rating). If I'm honest I wasn't completely sure what 'healthy' results should look like. My VFR for example was 4. Is this good or bad? A click through the app and I quickly found more information explaining what VFR was and what figures are deemed within a healthy range. Thankfully between 1 and 12 is OK so phew to that! I guess my point here is that even if you're unsure what a healthy body water percentage is, you don't have to leave the app to find the answer so everything really is at your fingertips.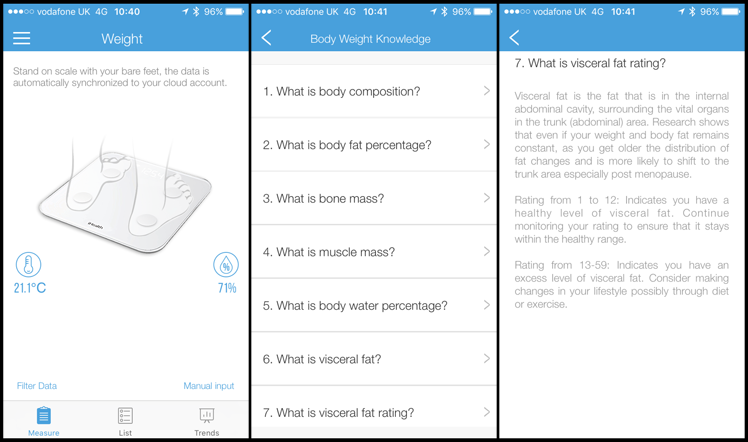 I intend to use the data that I now have available to me as a motivational tool to not just concentrate on my weight but actually dig into the other figures. Increase my water intake, try to get my body fat percentage down and my muscle mass up. The only temptation is to get on the scales every day because it's so clever! I'm restraining myself though and sticking with a weekly weigh in.

*Disclaimer: This was a collaborative post with iHealth and I was given the scales in order to give an honest review. All words and opinions are my own.