Salomon Sekani Shoe Review

If you've read my post about The Dog, you'll already know I do a lot of walking so having the right footwear is so important. When I started out I'd walk in flip flops (hilarious) or trainers. Basically just whatever was handy at the front door. I soon realised after having mud splattered or blistered feet that it was time to be a grown up and get some 'proper' walking shoes. I started out cheap and the saying of 'buy cheap, buy twice' could not be more true. Don't bother. They don't last and the chances are at some point you're going to be in some discomfort. I've just worn out a pair of Karrimor shoes so decided I wanted to invest in a better pair of walkers. Off I went to Cotswold Outdoors to try a few pairs on. The mistake I made here was that the kids were with me so you have to imagine it's like trying to choose a pair of shoes while somebody repeatedly slaps you with a massive foam hand. It's distracting!
Anyway – focus Amy. After trying a few on, the pair I chose were the Salomon Sekani shoe for women and they were even on offer – bonus! Now I may have embraced wearing a walking shoe but they still need to look good with jeans, which is my standard attire. I love the colour of the shoes, the dark grey is going to be able to hide a lot of muck so hopefully I can avoid cleaning them too often. The dash of pink adds some femininity to them which to be honest, I love. Despite not being a complete girly girl I also don't like to look as if I've bought bloke's shoes!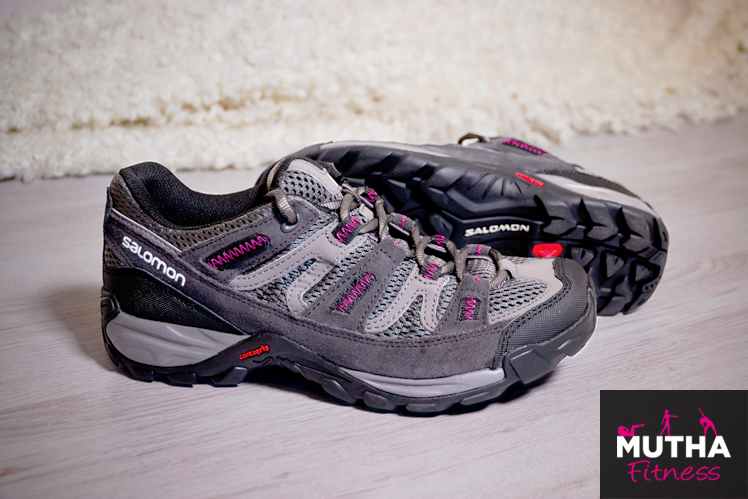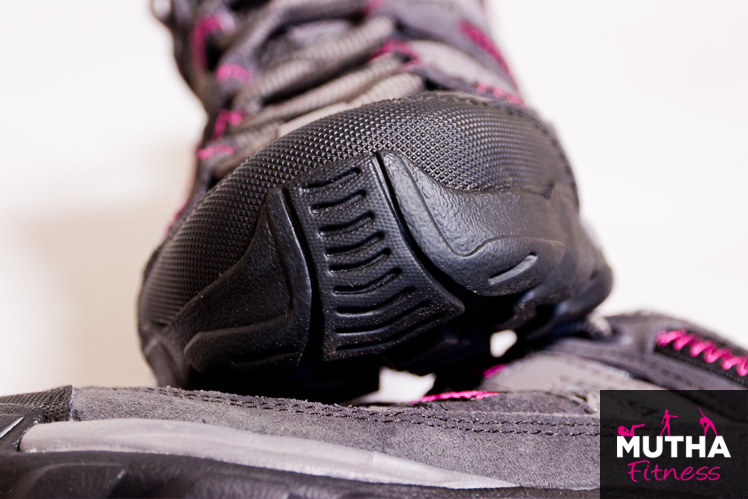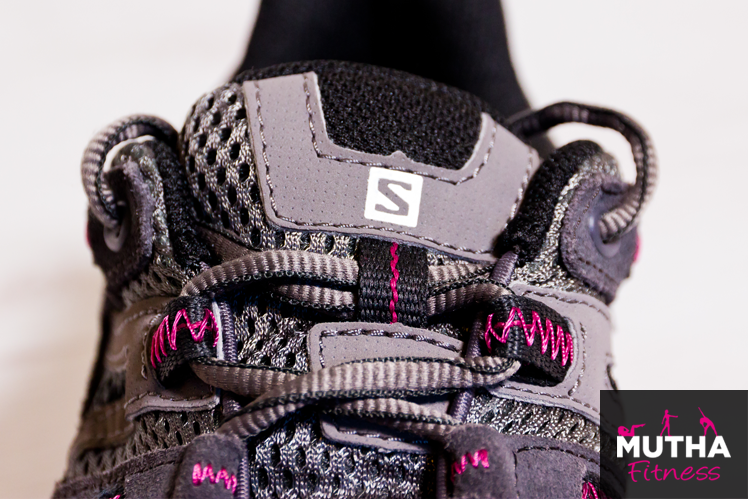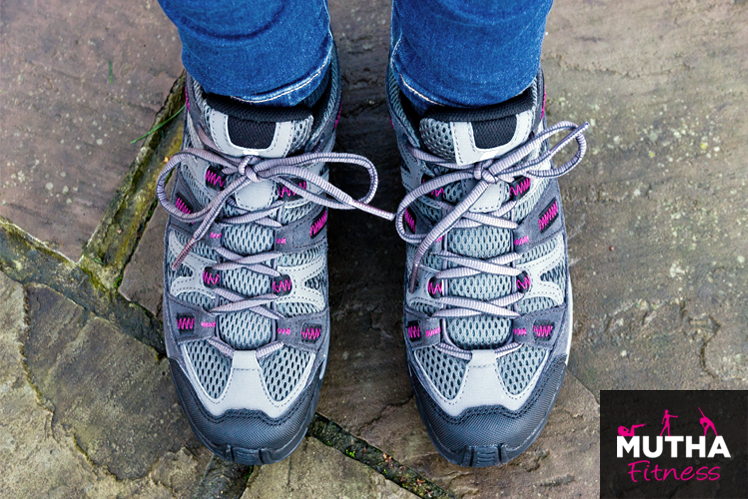 I've been wearing them for the past week for all of our walks and I'm really impressed with how comfortable the shoes are. They come with an Ortholite performance insole which really makes a difference as to how cushioned your foot feels inside. Add to this the extra padding that is evident around the heel and you have yourself some very comfy feet. My main issue with my previous shoes was the grip. I was constantly sliding along paths or even down the little ramp outside of Starbucks. Yikes, that could've been embarrassing if I'd gone head over heels. So top priority for me was to get a sole with a good grip. The Salomon Sekani's have Contagrip soles and I noticed the benefit straight away. I'm no longer grabbing onto the hubby as we're heading down hill and I have no fear over lack of traction as I'm happily carrying my cuppa out of Starbucks. Result!
The shoes are not waterproof and after reading a few reviews myself I noticed this was repeatedly coming up. I don't see it as a negative as I bought the shoes fully aware of this. You can buy waterproof walking shoes but you are looking at spending a bigger chunk of money if that's the feature you're looking for. I didn't need it as I enjoy joining the kids and donning my wellies. Great for muddy puddles and exploring rock pools. However, next search is for warm wellies. I currently have a Radley pair which certainly tick the stylish box and are great for summer mud. Not so great for cold winter feet. I'd love to hear from you if you've found the perfect pair.
All in all, I love my new Salomon Sekani's and I'm confident that the quality and technology is going to make them last much longer than previous pairs. They look and feel great so bring on those winter walks…