The Original Health Spa

In early September, the hubby and I were given the amazing opportunity to visit Champneys Health Spa in Tring. Wow! To say I was excited to spend a couple of days at the original health spa in the UK, is an understatement.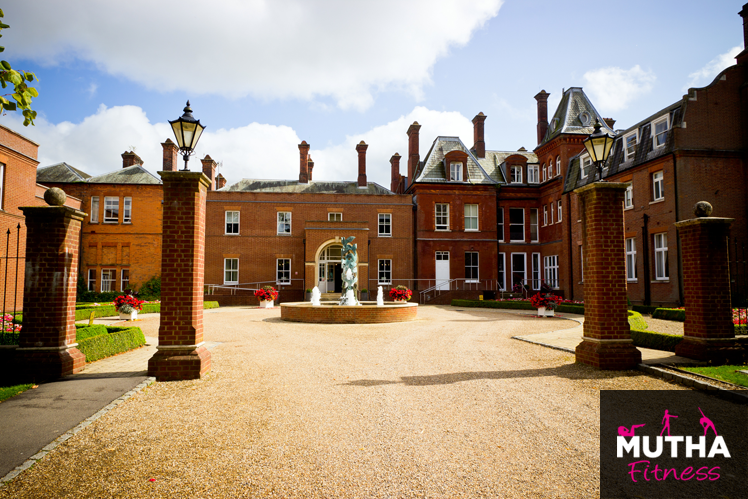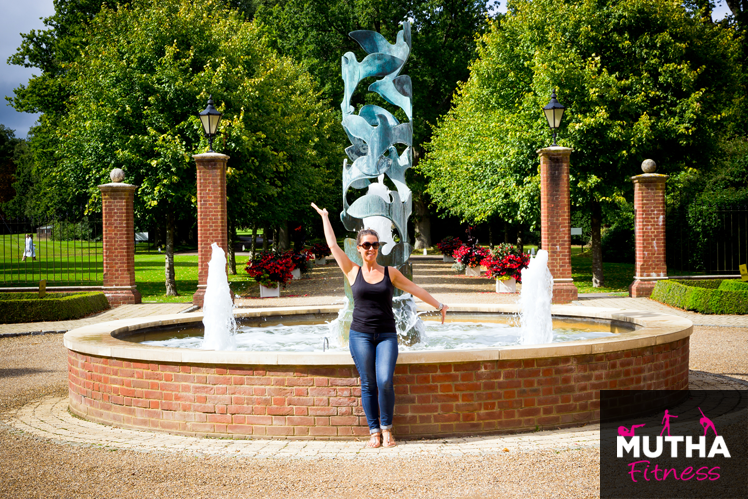 Once I'd got over the guilt of leaving the kids (and dog!) for the first time, we were packed and ready to go! After a 5 hour journey we pulled through the incredibly impressive gates of Champneys. The gardens are just beautiful and that feeling of relaxation almost hits you as soon as you've crossed those gates, it really was serene. No stress to get parked and check in was really swift with an offer to carry our bags to our room if we wanted it. Paul is far too manly for that though, ha! So we sipped back our welcome smoothie and headed to our room with our Champneys bags and flip flops.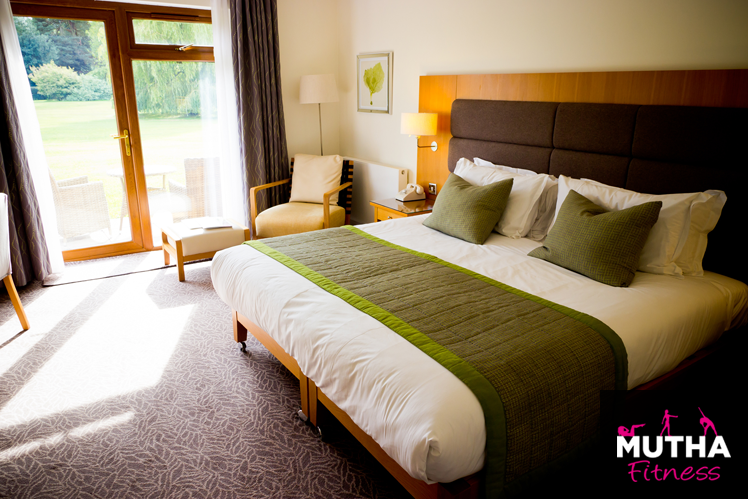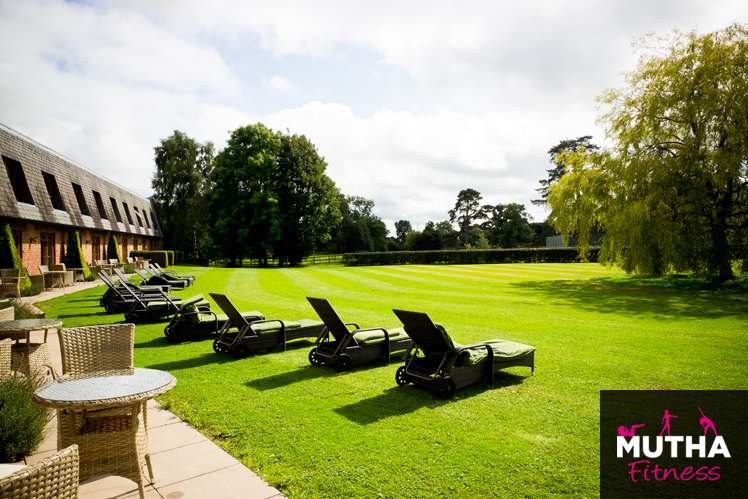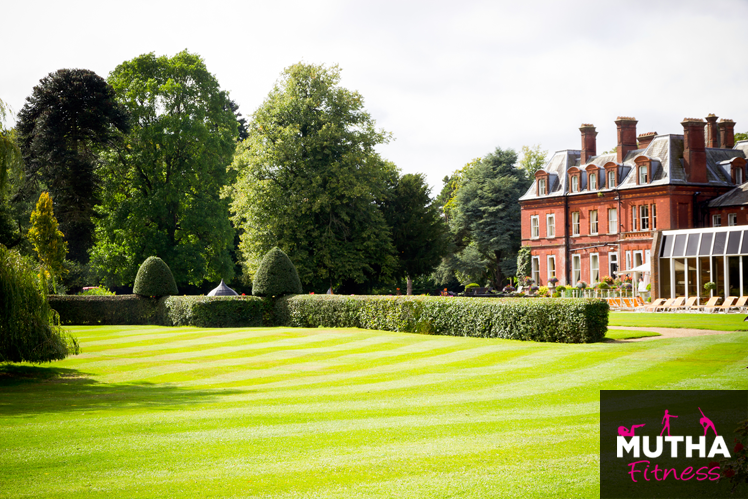 The rooms are beautiful and ours had a view of the gardens. The double doors lead out to wicker furniture on the terrace and a long row of sun loungers. It wasn't quite sun bathing weather when we visited but we did enjoy a sit out on the terrace before our evening meal later in the day. The famous white Champneys robes were hung up in our wardrobe waiting for us and after the initial 'people really walk around just in swimsuits and robes?' conversation we embraced it and headed out to explore the spa.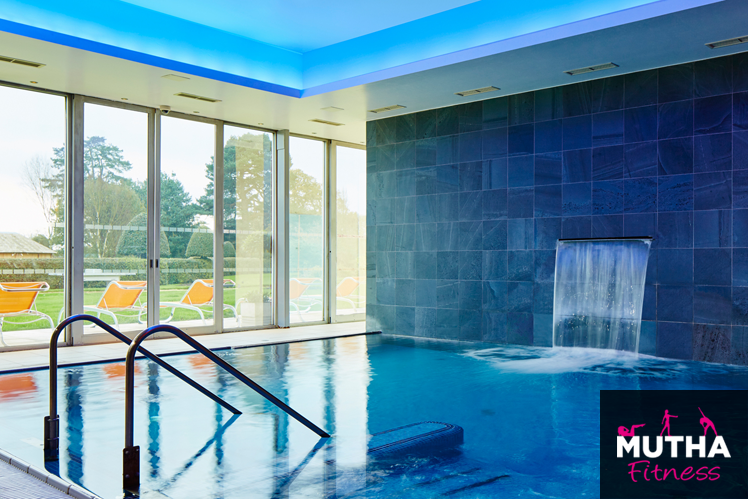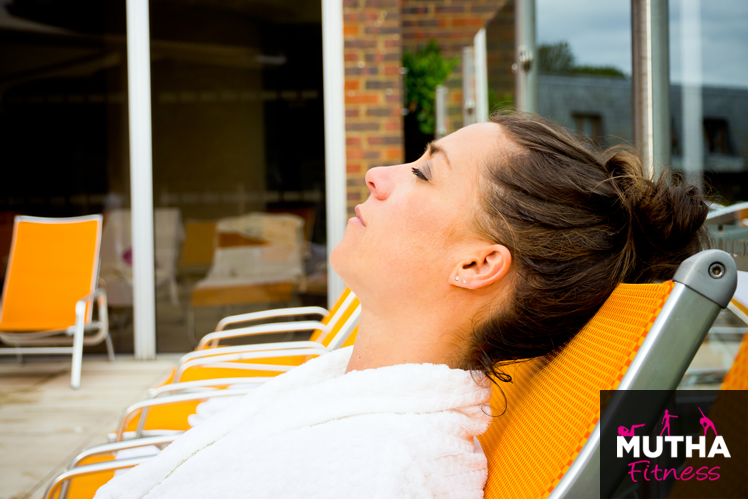 We knew we were spending time in the pool and fitness suite the following day so instead enjoyed some time in the hydrotherapy pool and the indoor and outdoor jacuzzis. With ample hooks for robes, showers and drying off areas, there really was nothing to stress over. Every little detail has been considered. We sampled the sauna and steam room too. Anyone who can spend any length of time in those rooms, I take my hat off to you. Wow they were hot, ha!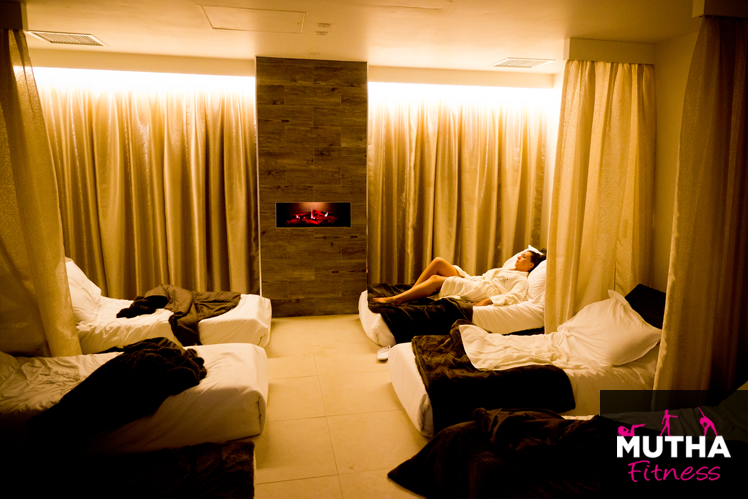 Tucked away from the main pool and jacuzzi area was the 'relaxation room'. We weren't sure what to expect when we opened the door but what was on the other side could only be described as serenity. Rows of beds with huge fur blankets, pillows, dimmed lighting and a roaring fire. The perfect place for a little nap or chance to let any stresses slip away. A really well thought out area.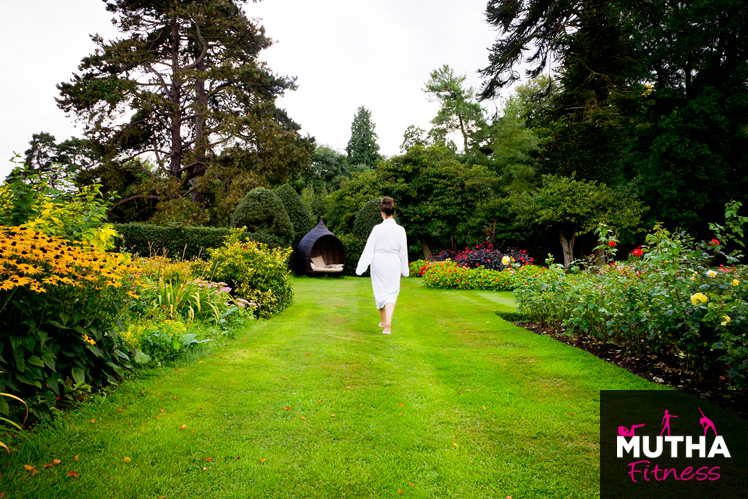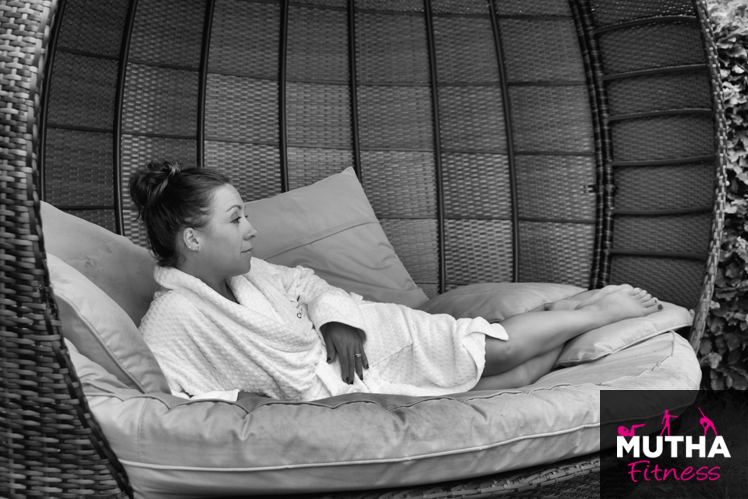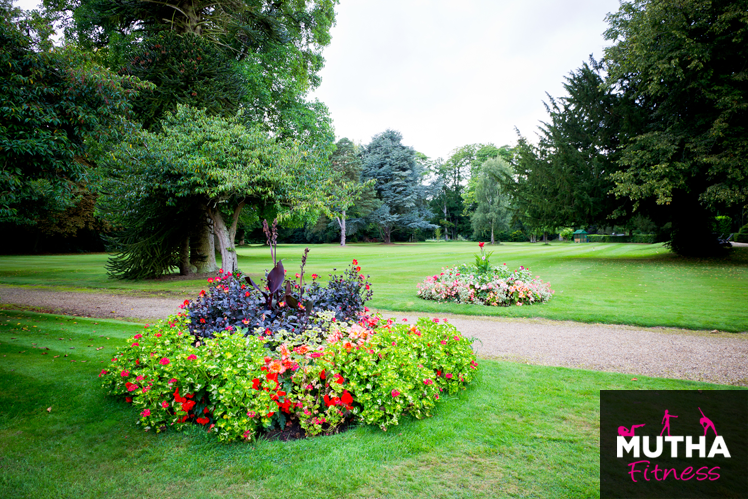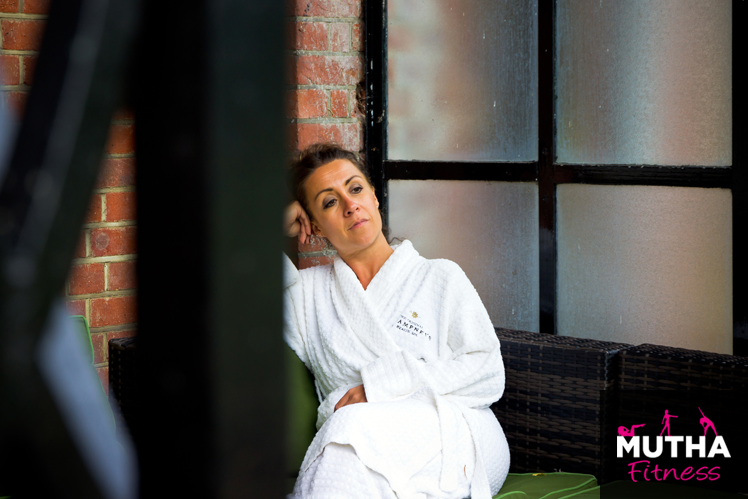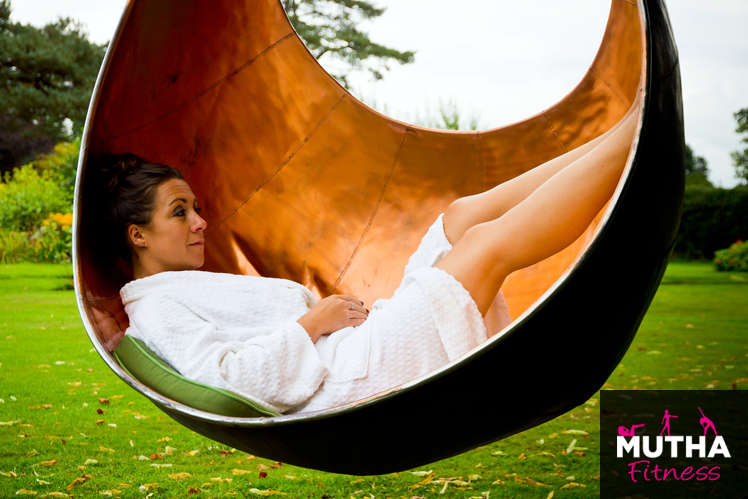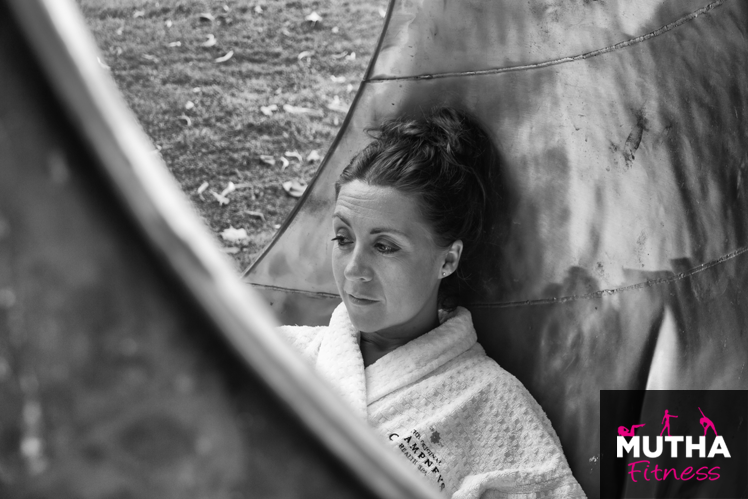 Before heading back to get dressed for our evening meal we took a walk through the gardens to explore the outdoor beauty and it didn't disappoint. There are day beds dotted around the gardens to relax in and a really cool copper swing which I can assure you was way easier to get into than out of, ha! Fabulous though.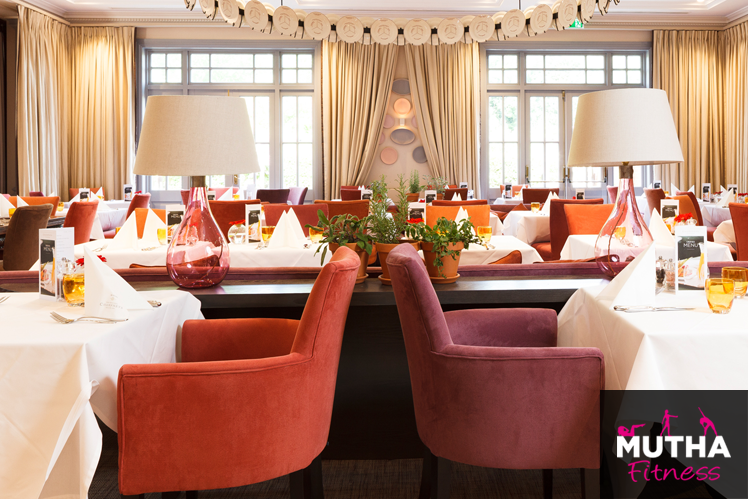 In the evening we met with Wayne Leal, founder and creator of two of the fitness classes we were invited to try during our time at Champneys. The dining area had a great atmosphere. It wasn't quiet and stuffy as you might imagine when going somewhere 'posh' instead it was buzzing with laughter and chatter. It was clear that everyone dining was relaxed and happy. The menu was varied yet simple and everything had a healthy twist. I enjoyed the roasted vegetable platter to start, which was amazing, and the fillet steak, sweet potato fries and a side of vegetables for my main course. It was delicious, well cooked and so well presented. The activities around Champneys do not end when the sun goes down. At 9pm we attended Wayne's motivational talk in the Knowledge Pod. It really was inspiring and I'd encourage everyone who visits Champneys to really look at the scheduled activities during your stay and try something different, whether it be a fitness class or to listen to a motivational speaker.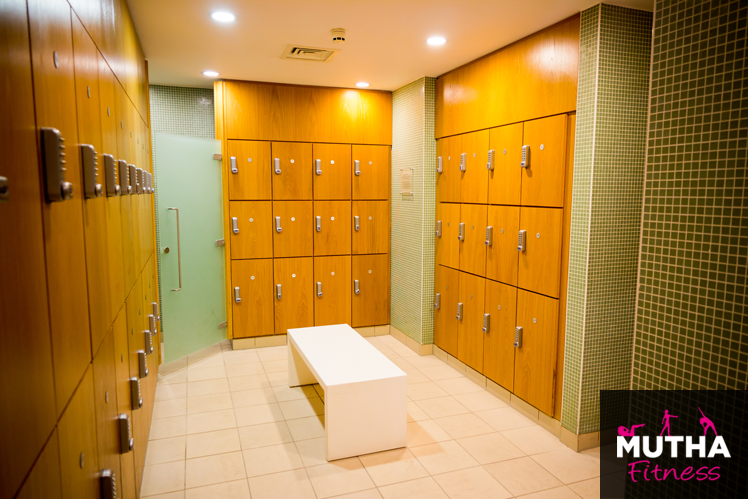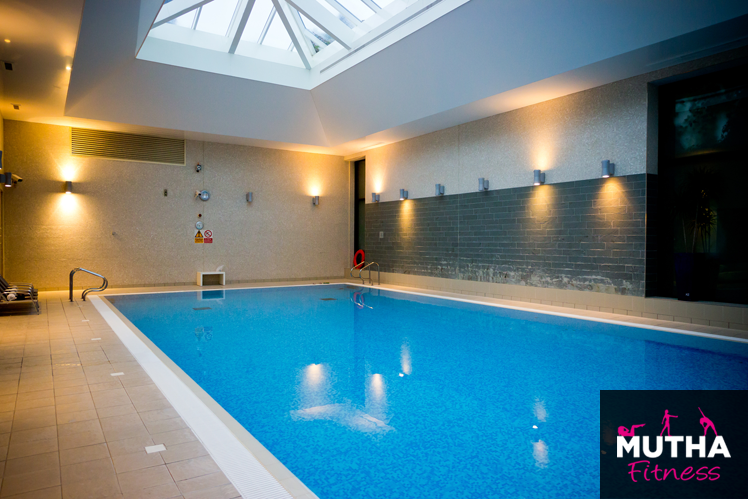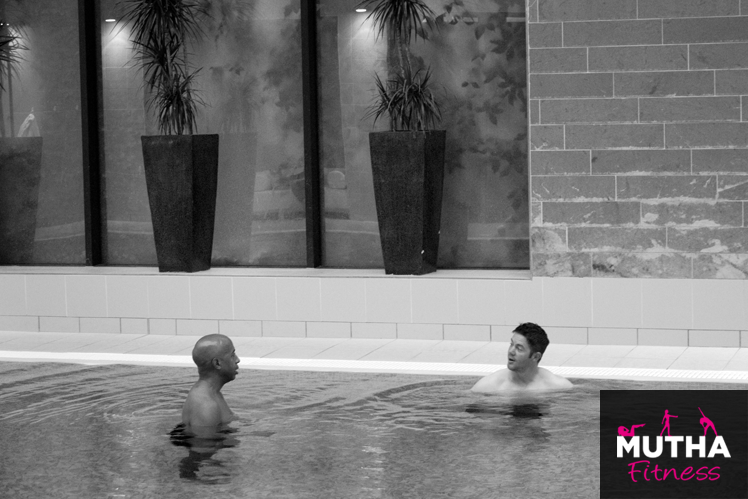 Here's a little time lapse we captured, it was harder than this looks!
The next morning we were up and at the pool side by 6.45am to meet Wayne so he could introduce us to Kun-Aqua. The concept of which is essentially resistance training under water. It was really difficult to fight the urge to just swim across the pool. Instead we walked under water up and down the pool. The walking was slow and it may sound simple to do but throw into the mix other swimmers alongside and the movement of the water and it was pretty tricky to keep your body stable and heading in a straight line. And there you have it! The beauty of the class. It's working your core so hard and in concentrating so much on remaining steady you also zone out to your surroundings. It's almost meditative. We tried different walking techniques, same arm same leg, different arm different leg, warrior etc. Finishing off the class with, explained in simple terms, underwater boxing. This really works your upper body and yet is so gentle on the joints. If you have access to a pool, especially one that is the same depth throughout, you must give this a try. If you can't find a pool to walk in, try the resistance moves instead. Uppercuts, jogging on the spot, etc. just make sure your limbs don't come out of the water or you'll lose the resistance.
Breakfast was another culinary delight. The former fatty in me wanted to sample everything because it just looked delicious but I controlled myself. The variety of the food on offer really was amazing. Whole grain breads, bagels and cereals as well as yoghurts, smoothies and fruit of every variety. The fact that I could have fresh red chillies for breakfast confirmed for me that yes, I can have chillies with every meal! They went beautifully with my wholemeal bagel and apple butter.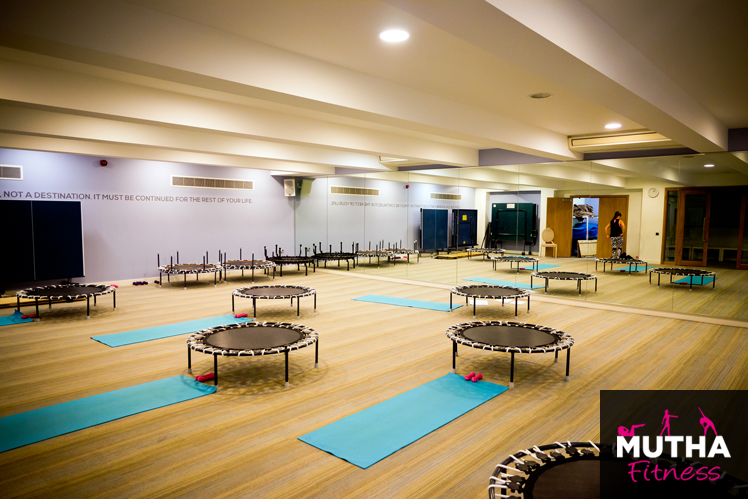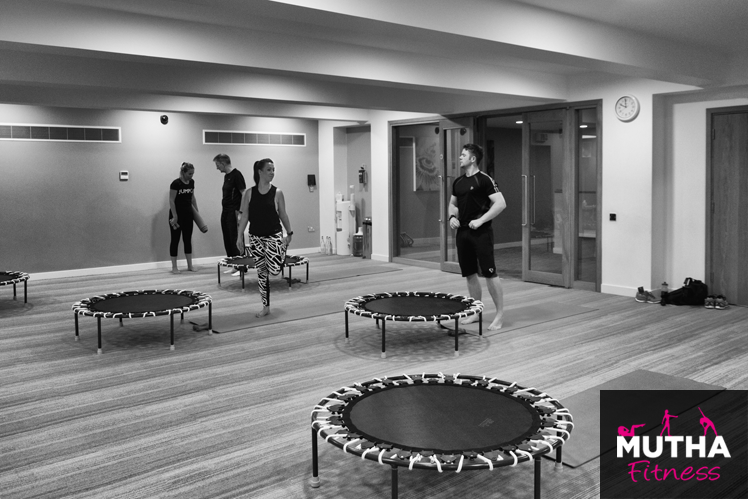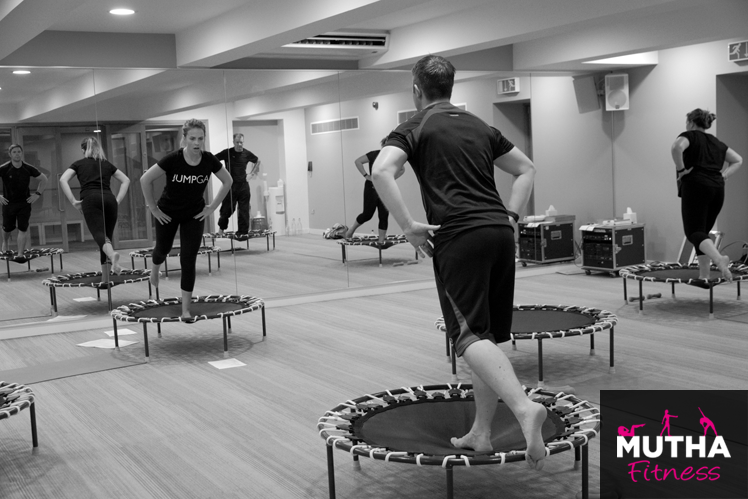 Here's another little time lapse we captured, it was harder than this looks!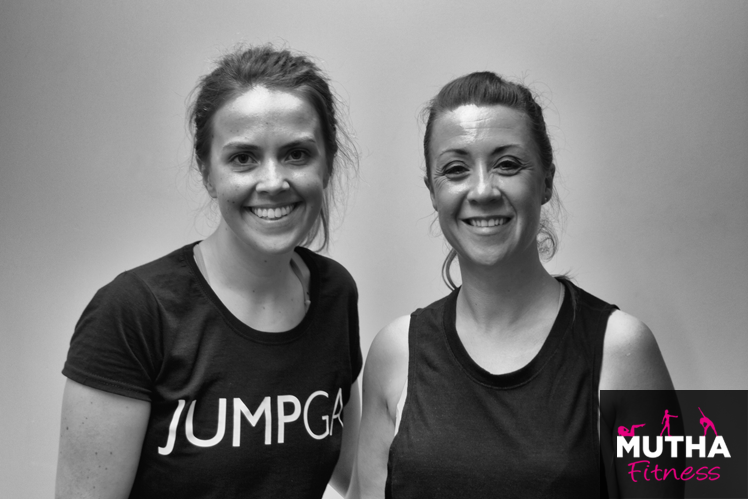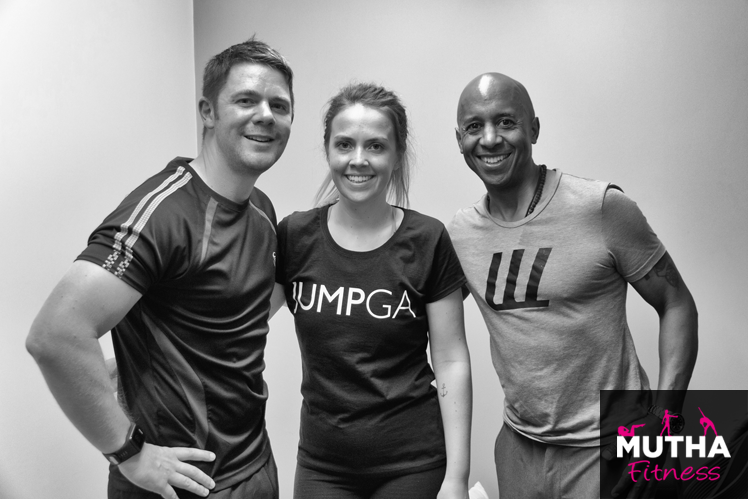 Another dip in the jacuzzis and then we went to our next scheduled fitness class which was JumpGa. The concept of which is combining a high intensity work out on a rebounder / trampoline with yoga. Again the beauty of this class is the kindness on your joints. You get the benefit of a high intensity cardio workout with the bonus of protecting your joints. The class was split into two 30 minute sessions, the first being the cardio and the second being the yoga. I got around 17 minutes into the cardio and must admit I looked at the clock thinking, can I really get to 30 minutes and live to tell the tale? But I did! And I didn't skip any of the tantrums which were 10 second bursts of jumping up and down with high knees, just like a toddler would having a tantrum. I held dumbbells all the way through but the lower intensity option was to drop the weights when you needed to. Natalie who took the class told us we'd forget all about the cardio once we were doing the yoga and she was right. If you've taken a yoga class before you'd be familiar with a lot of the moves but again the rebounders made them so much easier to execute and I certainly didn't end the class thinking I'd never walk again, like some classes can leave you feeling!
Our spa treatment was perfectly timed for after the JumpGa class so a quick shower and we headed for our 'detox journey.' After being in the wrong place for half an hour, although we were told to wait there, we queried it again and were pointed in the right direction of the Detox Centre, Greeted by very friendly staff we were then ushered through to a foot spa area where we could sit back and relax. We'd chosen to have the infra-red heat treatment which was designed to relieve any back, shoulder and neck pains and act like a heat pad would. So nice! Next we were taken to our treatment rooms and given the seaweed full body wrap. The detox centre layout, lighting and music all made for an ideal setting for a truly relaxing treatment and I definitely felt rejuvenated when we left for lunch.
We met Wayne in the dining area and as soon as we arrived he escorted us through saying 'there's someone I'd like you to meet' and as we came around the corner, there in his robe, was the legend that is, Frank Bruno. I instantly thought to myself this is going to make Paul's year! He loves boxing and growing up watching Frank Bruno, this was literally like meeting a childhood hero! (for both of us). It was definitely a wow moment.
Lunch was, as expected, absolutely delicious and such an amazing variety of healthy and nutritious foods. Anyone that thinks to eat healthy means you have to eat a salad, should visit Champneys. I had the Spanish chicken with rice and a wrap then loaded my plate with a huge array of vegetables, and chillies of course. I was stocking up ready for the 5 hour drive home!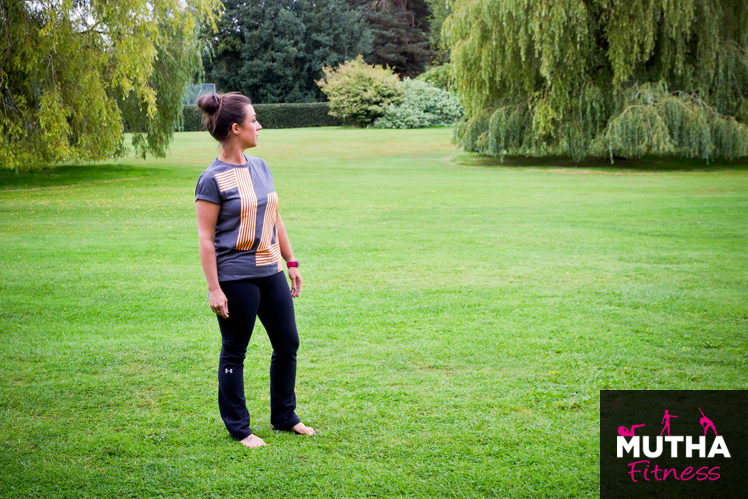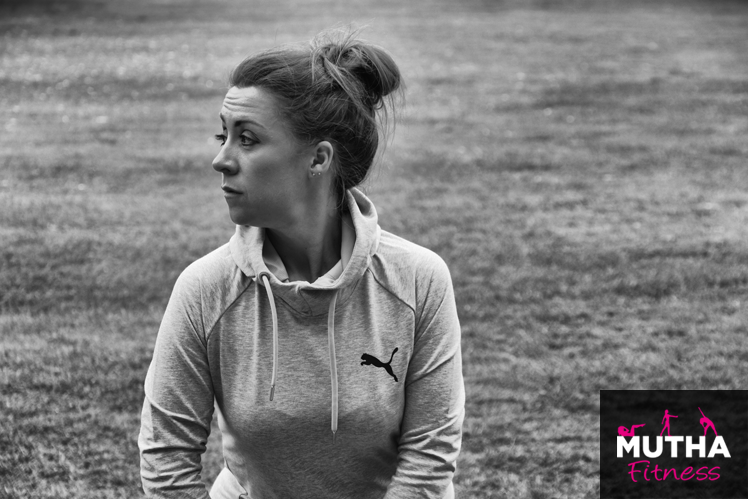 All in all our trip to Champneys and introduction to Wayne Leal can only be summed up with one word. Amazing. We left the original health spa relaxed, rejuvenated and excited about our future working relationship with both Wayne and Champneys.
Thanks guys, it was a blast!

*Disclaimer: This was a collaborative post with Champneys. All words and opinions are my own.